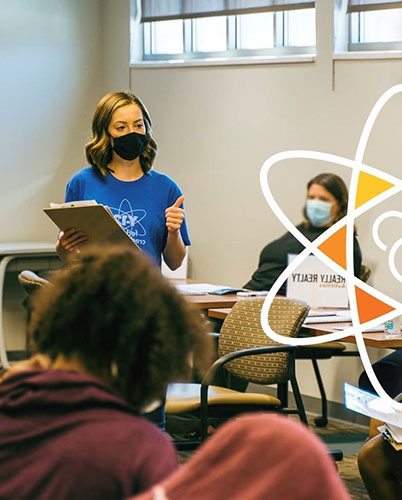 School Partnerships
Did you know that over 64% of adults identify finance as one of their main stressors? Our school program serves as an early intervention system that teaches students the importance of financial education. Students are given real world scenarios through simulated financial modules powered by a decade of research from our partner, Everfi, that help develop knowledge in a variety of important areas like budgeting, savings, and planning for a successful future. If there is a particular topic that students want to focus on, our team is able to tailor modules to meet specific areas of interest. In addition, students are given volunteer opportunities and have the ability to open a Y-12 FCU account backed by the support and expertise of our certified Fusion Team, who are available to help facilitate the entire process and encourage healthy spending habits.
Program Benefits
College Scholarships
When Financial Outreach helps your students join the Credit Union, they are gaining the opportunity to become a member, which means also gaining the opportunity to apply for the Bill T. Hicks scholarship. Each year graduating seniors are invited to apply for these financial awards.
Financial Industry Speakers
We believe in collaboration and a key feature of partnership is providing you with finance and technology industry professionals that will come to your class and take you lesson to the next level. Our Financial Outreach Advisors are always ready to join the class virtually or physically to cover a wide range of financial topics.
Online Resources
Social Media
We are active on a growing number of popular digital platforms. We want your students to have access to life changing financial literacy 24/7 and that means actively working to be involved on the platforms they use the most.
Financial Wellness Resource Center
From apps to coaching to courses, we have many tools available to learn and build money management skills.
Engaging Content
Classroom Presentation Topics
We can tailor our presentations between 15-90 minutes and can facilitate digital account opening assistance right in the classroom. Topics include: budgeting, credit and debt management, and many other essential lessons. Please contact us for a complete list of available workshops and seminars.
Mad City Money Simulation
Offered as a two hour hands-on simulation, CUNA Mad City Money gives youth a taste of the real world - complete with occupation, salary, spouse, student loan debt, credit card debt, and medical insurance payments. They make mistakes - and suffer the consequences of their decisions - in a realistic, but safe, environment.

We are excited to announce the creation of our Fusion Brand Ambassador Program for area high schools!
What this means for your students is an incredible opportunity to promote financial wellness in your schools, with their fellow students, and in your local community! This program is a volunteer role. The application includes a form (current community involvement is a plus!), an interview, and a review of the applicant's social media presence for suitability.
Requirements
Events

Two events per year with Fusion and wear branded items

One Ambassador training per year
School

Must be a high school student in one of our partnership schools

Must maintain a "C" or better average
Social Media
Post on social media twice per month,

This can include sharing our content or creating content

Must sign a Confidentiality and Good Conduct Policy Waiver


volunteer role
Must understand that this is a

Must be a Y-12 FCU member
Benefits
Letters of Recommendation
Consideration for Internships